In January of this year, we announced plans for a major capital investment across our campuses in Atlanta, Las Vegas and High Point to dramatically enhance our Markets. As an integral part of that investment campaign, we are excited to announce Atlanta NEXT.
Atlanta NEXT is a multi-stage capital and strategic investment plan that will transform the AmericasMart® Atlanta business through enrichment of all categories, the addition of new amenities, and improvements to all buildings at its 7.2 million-square-foot campus. Stage 1 focuses on Home Décor category enhancements including a complete renovation of the Building 1 lobby; a remerchandising of the home décor and open daily resources; and coordination and shared events with IMC's Atlanta Decorative Arts Center (ADAC) in Buckhead to present the Southeast's comprehensive dual-venue design destination.
As our valued partner, we want you to be the first to hear about these exciting updates.
NEXT for Building 1 Lobby
An extensive remodel of the Building 1 lobby will create an efficient and inspirational arrival experience:
New exterior entrances at Peachtree Street, John Portman Boulevard, and Ted Turner Drive
New two-story lobby featuring a flexible lounge, meeting and work spaces and additional registration areas
Premium showroom space, digital offerings, outdoor space and new food & beverage outlets
Removal of elevation changes at the entrance, streamlining traffic flow and eliminating confusion
Reconfiguration and renovation of Starbucks
New, year-round restaurant in remodeled lobby of Building 1
New, grab-and-go café in addition to restaurant and Starbucks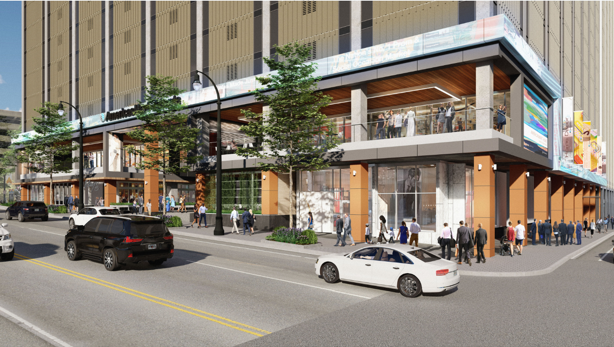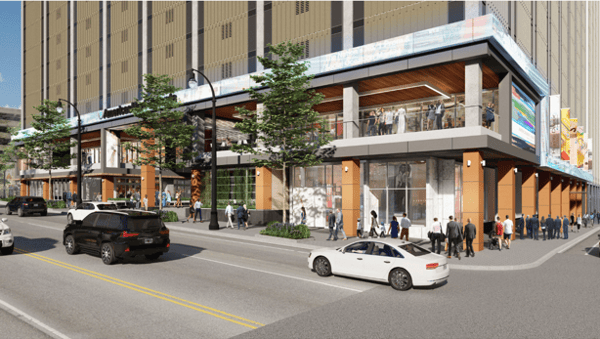 Rendering: Corner of Peachtree St. and John Portman Blvd.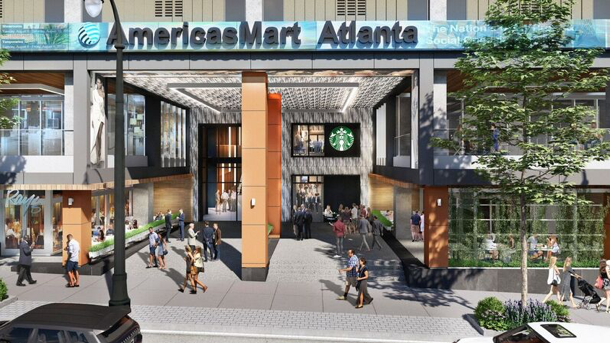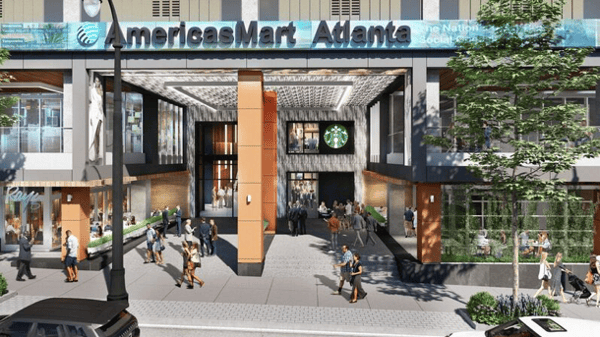 Rendering: Building 1 Entry at Peachtree St.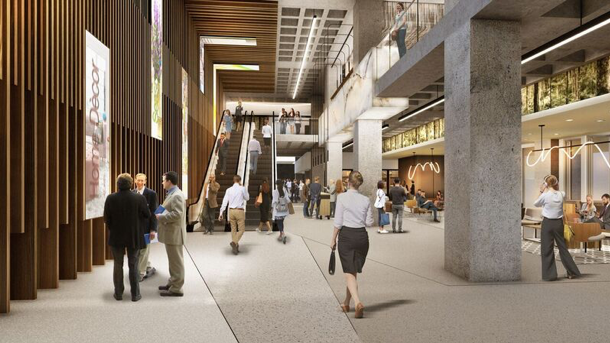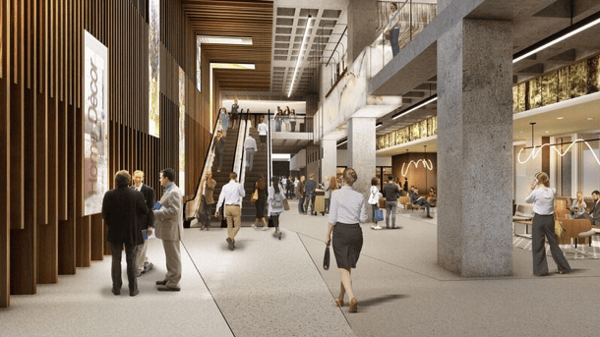 Rendering: Building 1 Lobby at Floor 1 Peachtree Entrance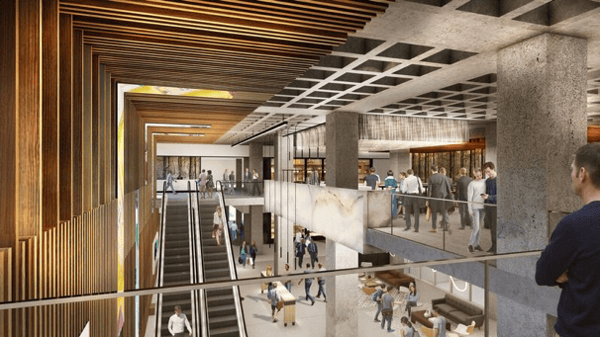 Rendering: Building 1 Lobby and Floor 2 Lobby Expansion
NEXT for Buyer Experience
Remerchandise Home Décor Floors to Align with Current Buyer Needs
Rebalance the mix of home products and price points to achieve the right neighborhoods throughout the campus to create a more effective, efficient and compelling buying experience
Create cross-category lifestyle merchandising of showrooms to align with the current retail landscape
Complete integration of rug and home products, eliminating the historical rug-only floors
Elevate the Daily Shopping Experience
Consolidate open daily showrooms on consecutive floors for a more seamless buying experience for designers sourcing between markets
Add a new Open Daily reception desk to welcome designers
Build robust year-round programming initiatives, including events planned to attract residential and commercial designers to the building throughout the year
Partnership and Collaboration with ADAC
In joining forces with ADAC, we are positioning Atlanta as the most comprehensive dual-venue design destination in the Southeast. Our first combined event will be in September 2019 as we cross-promote Discover ADAC and Fall Design Week at AmericasMart. Initiatives include:
Creation of styled vignettes at both ADAC and AmericasMart, curated by well-known designers, blending products from both campuses
Free shuttle buses between campuses during the event
Coordination of programming schedules to allow designers to attend both events
Telling the Atlanta NEXT Story
To supplement our massive buyer marketing efforts through all channels, our direct outreach through the Buyer Services team and recently-launched Call Center ensures buyers receive the exciting news of this transformation.
Buyer Services and Call Center
Focusing new and existing staff with expertise in four primary market categories – gift, home décor, furniture and apparel
Addition of a new role at IMC to focus exclusively on bringing key accounts for home décor to Market
Four team members working with associations and buying groups to bring groups of buyers with significant open to buy to all of our markets
Launch of Atlanta Call Center with five full-time team members dedicated to one-to-one outreach to new and lapsed buyers. The team is already having a significant impact on registrations with nearly 8,500 calls made and 1,100 buyers registered for July Market
Timeline
As you can imagine, a transformation of this magnitude will need to be implemented in stages around major Atlanta Markets. Schedules are still being confirmed, but the plan is:
Stage 1: Home Décor

Summer 2020: New lobby restaurant, Peachtree Street entrance and exterior façade
Winter 2021: Full lobby renovations will be complete

Stages 2 & 3: Gift & Apparel

Further strategic initiatives to support Gift and Apparel and associated building enhancements for Buildings 2 and 3 will be announced in the coming months as plans develop.
While we are all excited by the initiatives outlined above, we know that you have questions. Your leasing team is on the ground and available to discuss these projects in person. You can track our progress by visiting www.americasmart.com/atlantanext.
I wish you all a successful Summer Market at AmericasMart and look forward to sharing more updates soon.
Onward and upward!
Sincerely,

Robert J Maricich
|
Chief Executive Officer
International Market Centers